Fridge Magnets – Product Description
We genuinely think these stunning fridge magnets will not disappoint you, indeed they are among the best fridge magnets we have ever seen!!
They are 8.3 x 5.3cms, a bit more than 3 inches high and 2 inches wide, and come with an approx 1cm thick see through acrylic (glass style) window with stylish bevelled edge. They are super strong, so if dropped it takes some impact to affect them. They also grip to the fridge surface as you'd expect a really high quality magnet to do.
Please contact us should you want to order 4 for the price of 3 (unfortunately the website check out at present doesn't allow this). Please note there is an extra charge for using your own images as we need to format them for submission to the printers.
How To Order Vintage Cricketers Personalised Fridge Magnets
We have 2 different forms for ordering our personalised vintage cricketer fridge magnets. You can either select to use an image from our Vintage Cricketers image library on this website or you can select to send us your own image to add to your personalised fridge magnet.
Use Our Images
PLEASE CLICK ON THE IMAGE BELOW TO OPEN THE ORDER FORM
To select an image from our image library on this website :
Use the search forms to find your desired cricketer
Open up that cricketer's product page
Copy the title of that product (for example thoms-harry-image-1-derby-county-1926) into the box provided
Send Us Your Own Image
PLEASE CLICK ON THE IMAGE BELOW TO OPEN THE ORDER FORM
To select an image other than from the image library on this website:
Use the Choose File button to find the image in your computer
Image should not be larger than 7mb
When you click add to cart the images will be uploaded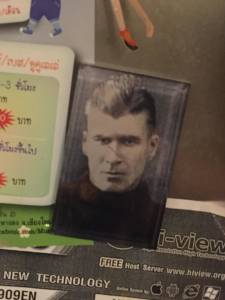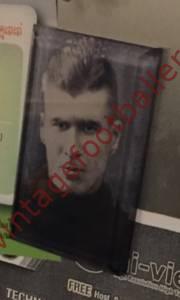 Above you can see the same fridge magnet "in action", apologies for the less than professional photographs… hopefully you can get a perspective of the depth of the "window" covering the image, in this case our sister site's very own Vintage Footballers logo, aka Elisha Scott (NB sorry also about the site's watermark across Elisha's nose in the left hand image!).